"Then Mary said, "Here am I, the servant of the Lord; let it be with me according to your word." (Luke 1:38)
There is an old story I heard many years ago —  It goes like this:
There was a man standing at the bottom of a hill in the shade of a great tree that stood on the road leading up a hill to a temple.  He stood there watching pilgrims making their way up to the temple to pray and then back again as they made their way home. Soon he saw a man walking up the road with a fully-grown cow snuggled closely around his shoulders.  This astonishing pilgrim made his way up the hill methodically and seemingly without difficulty. The observer stood in awe at the sight of him and remained watchful until he disappeared into the temple. After a short while the pilgrim began his return journey down the hill to return to his home – still seeming to effortlessly carry the cow on his shoulders.  As he neared the bottom of the hill to the place where the man had been watching under the tree, the man approached him with an air of incredulity and said, "Sir, I have watched you in amazement as you carried this cow up the hill to the temple and back again. I must ask you, how is it possible for you to do this without so much as a rest or complaint?" And the pilgrim gave him a shrug and mild smile and said; "I have carried her since she was a calf." He then went along his way leaving the man to ponder all that had just happened.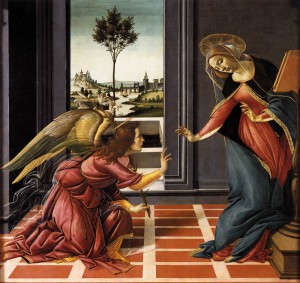 This story has always reminded me, somehow, of the Annunciation and Mary's encounter with the Archangel Gabriel. In that moment, Gabriel comes to present a most glorious, miraculous and impossible plan to Mary – arguably the most important proposal made to a human being.  Mary's response was to be the most crucial ever uttered – the history of the salvation of all creation hinged on her consent.  This young virgin woman said "yes" to God.  She said "yes" when every bit of common sense must have been clamoring for her to shout "no!"
How was she able to do this? I have to believe that somewhere else in her life prior to that moment there were thousands of other smaller moments in which Mary practiced saying yes:  small obediences in the home of her parents, in the village with her neighbors, and with her betrothed, Joseph. So, when this moment arrived, Mary did not hesitate – she recognized God's presence in the midst and gave her consent as His handmaiden.  I also believe that at that moment she had no idea what she was actually consenting to and all the grief and joy that was ahead of her because of that little word "yes." Sometimes I wonder if Mary had been given a glimpse of the crucifixion would she have even had an ounce of courage to eek out that "yes."
I think this is true for all of us – if we knew in advance all of the grief (and joy) that was in store for us coming about because of our present choices, I am sure many of us would not be able to muster the courage to eek out our "yes." We can take heart in Mary's consent and trust that through our little "yeses" to the seemingly insignificant choices, challenges, and opportunities that daily face us, we gain the strength for the weightier and more glorious things ahead.