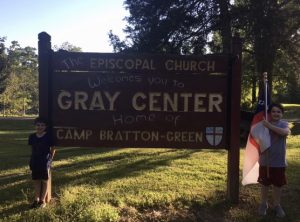 I don't even know where to begin in describing the amazing time that is Parish Weekend. This was a first for me: a first at Parish Weekend, a first taking my kids to a camp, and my first time at Bratton Green as a "camper". After weeks of talking about it, and Banks and Hayes asking me almost daily about it, the moment arrived when we passed under the arching trees on Way Road and stopped by the sign for an obligatory "sons by the sign" photograph. Our parish weekend then began with the windows rolled down, AC/DC on the radio, and the Episcopal Flag proudly hoisted through the sunroof as we rolled up to cabin 5 parking. We were immediately greeted by friends, C'YA and youth alike, and the boys were immediately off and running with their friends…..church flag proudly leading the way while I unpacked.
The stress of life and work had already started to melt at the welcome sign, but once I saw that pristine lake and a metal canoe, I knew what our first activity would be before supper: strapped the boys into vests and paddles went into the boat, and we were off! Serenity hit us all at once. The boys both exclaimed things like "wow. Awesome place!" Or "dad, when can we come to camp here?" Or "we LOVE Camp Bratton Green already…..". Little did they know, the best was yet to come. And little did I know that the boat paddle wouldn't leave my hand most of Saturday! Just call me Commodore……
One of the most memorable parts of the weekend, aside from the community effort in fun doing meals and singing grace as a group, was strengthening bonds with "old" friends and starting new bonds with newer folks. Nowhere was this felt more than seeing my own sons, Banks and Hayes, become so close with everyone. Specifically, they hit it right off with the Cook children from Cabin 5A! The joy of seeing them all interact over the days was what set my heart aglow all weekend and what makes me now, even as I type this, long to be back.
We are truly a blessed and unique community at the Chapel of the Cross. If you weren't there, even for a day, you missed the power of the Holy Spirit giving rest to those who labor. I feel refreshed, recharged, blessed, enriched, and fed (physically and spiritually!). If you haven't been before, come next year. If you haven't been in a while, start back. This truly was what we are all about…..and we even baptized some new family members on Sunday……
See all the photos for a glimpse.
"Ohhhhhhhhhhh…….the Lord is good to me……."
Eric Eaton