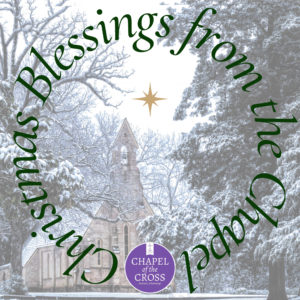 Christmas is a blessing.
According to my dictionary, a blessing is "God's favor and protection" or "a person's sanction or support."  For me, a blessing is recognizing that something is good, perhaps holy, or maybe sacramental:  a reminder of God's love.  I remember calling Ellen's parents asking for their blessing before I asked their daughter to marry me.  Her mom said, "go for it!"  Her dad said, "do I get a vote?"  I remember one Christmas Eve several years ago, moments before Midnight Mass was to begin, a soldier pulled me a side and asked me to bless his St. Michael's Medal in preparation for deployment in a few days.  And just the other day, a couple called and asked me to bless a new wedding band.  One of them – I won't say which! – lost theirs, and the three of us gathered in the Chapel of the Cross to pray for God's blessing on a new ring.
We are profoundly blessed.  We are blessed to live in a prosperous community and worship in a beautiful setting.  Many of us are blessed with friends and family who gather at Christmas to share and celebrate.  And we are blessed by the birth, ministry, death, and resurrection of Jesus.  To contemplate, know, and rejoice a God who is Emmanuel – "with us"-  is a blessing beyond description.
I pray we are blessed with the vision to recognize our blessings this year.  While the past two years have been incredibly difficult, we are blessed to know another Christmas.  The darkness and distractions of the world can obscure the good, the holy, and love that surround us.  Our blessings may be a challenge to find sometimes – and some of them are elsewhere, perhaps even "upon another shore and in a greater light" – but acknowledging and cherishing them is our joy, at Christmas and all days.
The Chapel is a blessing and each and every one of you (yes, even you!) are a blessing.  I give thanks and praise that you are you.  I pray you are surrounded by many, many blessings this day and may we continue to be a blessing to each other and our world at the Chapel of the Cross.
Happy Christmas.
Keep the Faith,
Ben+