Every Southerner knows it's all about the food. Good food, that is, and that's exactly what you'll get, along with a good read, from the Chapel of the Cross cookbook Day in the Country. This beautiful full-color book offers a generous slice of Chapel history as well as culinary delights passed down through the generations. Named after the church's annual festival, A Day in the Country, this book delights the senses with more than 100 photographs, 169 recipes gathered from the Chapel's fine cooks and captivating stories of bygone ages and the people and events that make it a thriving parish today.
Featuring closely guarded secret recipes, including some that have never before been written down, this cookbook unveils them all, from the award-winning recipes of the Chapel's own Heavenly Hogs Barbeque Team to the illusive secrets of the famous 63 Egg Cake. It also tells the story of the settlement of areas such as Annandale, Ingleside and the community of Mannsdale. Join us as we share a part of our faith journey, celebrating the past and its legacies, our identity today, and, of course, the mouth-watering cuisine that surrounds  it all.

Widely publicized throughout the South, the cookbook also won the prestigious TABASCO Community Cookbook Award for the Southern Region in 2009.
---
Day in the Country Cookbook
Sharing Our History, Heritage & Fabulous Fare Through the Generations
The Day in the Country Cookbook is available in the parish office for $28.95 plus Mississippi sales tax of $2.03 or you can order it online at adayinthecountry.org.
---
Try this sample recipe!
Celebration Tuscan Salad
A real crowd pleaser!
3 c. chopped, cooked chicken breast
2 Granny Smith apples, peeled and cubed
4 green onions, finely chopped
1/2 cup sliced black olives
1/2 cup mayonnaise
1 and 1/2 t. Greek seasoning
1 9-oz. package cheese tortellini
1 5-oz. package baby spinach, torn
1/2 c. sunflower seeds
1 c. prepared Italian salad dressing
In a large bowl, combine chicken, apples, green onions and olives with mayonnaise and let stand in refrigerator overnight. Cook cheese tortellni according to package directions. Add tortellini, spinach and sunflower seeds to chicken mixture. Add Italian salad dressing, tossing to combine well. Return to refrigerator for at least one hour.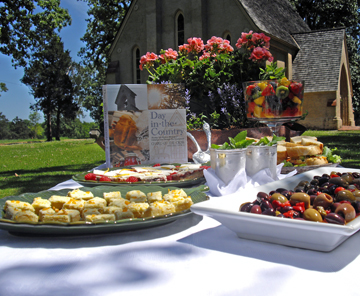 Just one of our suggested menus
The Perfect Sunday Brunch
Spicy Bloody Marys with Citrus Vodka, p. 41
Rosemary Roasted Cashews and Pecans, p. 17
Mannsdale Salad with Sherry Vinaigrette, p. 66
Country Grits and Sausage, p. 169
Orange Pecan French Toast, p. 171
Perfect Chocolate-Covered Strawberries, p. 228