To contact a member of the clergy, staff, or vestry, please call the parish office at 601.856.2593 or use the Contact Us page. We look forward to hearing from you!
Clergy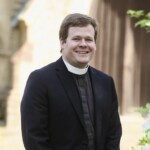 The Rev. William Hewlett Compton
Priest in Charge
wcompton@chapelofthecrossms.org
Will has been at The Chapel of the Cross since July 2015. A native of Meridian, Mississippi, he received his degree in Business Administration from Mississippi State University in 2008. Following college, he worked for four years as a credit analyst at Hope Credit Union. He received his Masters in Divinity from the Virginia Theological Seminary in 2015. He and his wife Sarah live in Madison with their son, John Owen, and two daughters, Addie and Betsy.
After serving as Associate Rector for seven years, Will is now Priest in Charge of the Chapel of the Cross. In addition to his former duties including the charge of worship volunteers (lay readers, ushers, acolytes, vergers), pastoral care, and young adult ministries, he currently oversees the responsibilities of the Rector. He is fed by a deep love for the liturgy which began as an acolyte long ago, rooted in the belief that liturgy is nothing less than an encounter with God that transforms lives.
In his spare time, Will enjoys being with family and friends, reading, and attending Mississippi State athletic events.
The Rev. Tom Fanning
Interim Associate Rector
tfanning@chapelofthecrossms.org
Tom is a native of Jackson, MS. He attended St. James Episcopal Church in Jackson, MS where he sang in the youth choir and was an acolyte. Both he and his wife, Marjie, are cradle Episcopalians. In 1988, they   moved to Madison and joined Chapel of the Cross.  During his time at the Chapel, Tom worked with the acolytes, chalice bearers and inquirers' class and served on the vestry. Also, during this time Tom discerned a call to the priesthood. In August 2003, he and his family moved to Sewanee, Tennessee where he attended seminary at the University of the South. Upon graduation from seminary in May 2006, Tom served St. Luke's Episcopal Church in Brandon, Mississippi for seven and a half years. He then accepted a call to St. John's Episcopal Church in Pascagoula, Mississippi where he served as rector for nine years. Tom and Marjie live in Madison and are very happy to be back home at the chapel.
Staff
Samantha Benge
Parish Communicator
Samantha (Sam) acts as first point of contact for the Chapel. Her responsibilities include managing our social media accounts, sending out our bi-weekly emails, and working with our Day in the Country vendors. A graduate of Belhaven University, Sam came to work at the Chapel in May of 2021. She grew up in Madison and is a member of the First Presbyterian Church of Jackson. In high school, Sam was invited to the Chapel's youth program by one of her friends. She loved attending the youth group and feels blessed to come back here to work. She lives in Ridgeland with her husband, Alex, and their 13-year-old dog, Pearl. Sam enjoys traveling, reading, and photography.
Edward Dacus
Organist & Choirmaster
A native of Canton, Edward Dacus holds a bachelor's degree from the University of Southern Mississippi, a master's from the University of Mississippi, and a doctorate from Louisiana State University. He and Viola married at St. Peter's in Oxford in 1985, and the highlights of their marriage are their children Emily Katherine and Jonathan. He taught at Oklahoma State University for six years before joining the faculty at Mississippi College in 1999, where he currently teaches classes in music history and piano technology.
Edward has served in numerous churches in a wide array of denominations for the past forty-seven years. Introduction to the Episcopal church while in undergraduate school resulted in a lifelong passion for music's significant role in the liturgy and as well as spiritual development.
He also enjoys gathering random facts about passenger trains in this country.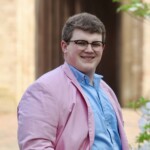 Doug Goodin
Youth Director
dgoodin@chapelofthecrossms.org
Doug is a recent graduate of the University of Georgia where he majored in Theatre and Political Science.  While at UGA, he spent considerable time working with the Baptist Collegiate Ministry and WinShape Camps for Communities.  Doug is very excited to be called to the Chapel, help our young people take ownership of their faith, and foster a welcoming and productive environment for the Chapel's youth ministries. When not at the Chapel, Doug can be found watching any number of films new and old.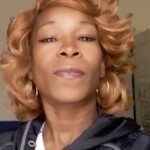 Carleen Hicks
Sexton
The Chapel welcomed Carleen to the family in March 2020. She not only directs our event setup, maintenance, hospitality services, but also serves as Sexton at St. Columb's Episcopal Church in Ridgeland. She is a loving mother and a delightful friendly face around the Chapel!
Haylee Nix
Preschool Director
Haylee graduated from Mississippi State with a B.S. in Human sciences with a concentration in Human development and family studies. She has lived in Madison for 9 years and worked at Chapel of the Cross for a little over three and a half years. She began with COTC Preschool as a 3-4k teacher then moved up to Director after earning a Nationally recognized CDA or Child Development Associate credential. She met her husband Andrew Nix, who was born and raised in Madison, at MSU. They will have been Married 9 years this coming November! They have two beautiful Daughters Emma Ryan and Mary Reece. They have been church members at Chapel of the Cross for the last two years!
Dana Tiffin
Parish Administrator
dtiffin@chapelofthecrossms.com
Dana Tiffin joined Chapel of the Cross staff in July of 2014 as Parish Administrator.  In addition to providing general oversight of our office administration, Dana handles our parish memberships, pledges, Day in the Country vendor information, and cemetery plot information. Prior to coming to the Chapel, Dana worked for 7 years on staff at Pisgah High School, providing a broad spectrum of clerical and administrative support.  She also served for 6 years in the Preschool at Ridgecrest Baptist Church teaching 3 & 4 year olds.
Dana was born and raised in Jackson before moving to Madison in junior high and graduating from Madison Central High School. Dana and her husband Michael Tiffin have four children, Hunter, Chase, Savannah, and Sarah. The Tiffins are active members of Ridgecrest Baptist Church and reside in Madison.
Dana says, "I am so blessed to be able to be part of the Chapel of the Cross.  I have loved getting to know the parishioners and see God working within the parish.  I am equally blessed to be a part of such a great team to work alongside every day."